Student Success Stories
To help give you a feel for what lessons with me might be like, here are several students' stories. They cover a great variety of ages and experience levels, from beginner through highly advanced.
Dan Wyman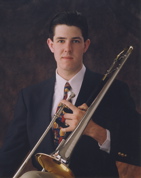 Student from 5th grade (1991) through 12th grade (1999)
Dan was one of my first students, and his involvement with music grew gradually as a natural result of his enjoyment of playing the trombone. We did not start our lessons with any particular push towards long term achievement, but great things eventually happened. Early lessons emphasized fun and step-by-step progress, and only later did things become "serious!"
Dan's mother was very supportive of his music making, and her enthusiastic support added a tailwind to Dan's growing interest in trombone. She wrote some kind letters to me through the years, documenting his progress. The following excerpts tell the story of Dan's growing interest in the trombone and music through several stages: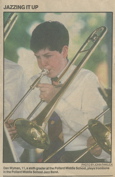 Grade School years of enthusiastic exploration and discovery
Middle School years of building ability
High School years of exciting achievement and expanded horizons
From 5th grade
"This was Dan's 1st year in private lessons and I was very pleased with his progress. His confidence level is very high and as he enters Middle School, this will help him with more than just band and trombone. I think your love of the trombone and your knack in dealing with kids is the best for keeping them motivated."
From 9th grade
"Thanks so much for your continued teaching efforts with Dan. I have really seen his confidence grow this year and I think your guidance and motivation for him to push himself a little further, aim a little higher, indeed reach those high notes has been the main support behind his success this year!"
From 10th grade
"Dan has reached a milestone with getting into MYWE and could not have done it without your patience, persistence, motivation, and devotion. Thank you from the bottom of our hearts."
From 12th grade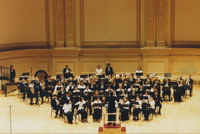 "This year could not have been more packed with new horizons to cross – from being paid "semi-professionally" to play in the pit with Newton Country Players, to Carnegie Hall with the Massachusetts Youth Wind Ensemble, to performing (as a special youth guest) with the Boston Symphony Orchestra - Seiji Ozawa conducting, to the upcoming tour of Italy with the Youth Symphony. I look back and reflect on the impact music has had on Dan's life – and find it to be the underlying thread that defines him. I never see him without the trombone case swung over his shoulder on his way out the door to school every morning, and without the music folder tossed casually on the dining room table every evening. Music and the trombone and you, Brian, have been one of the best parts of his and my life."
I never push students to pursue a career in music, no matter how great their early success and enjoyment. My encouragement along these lines is reserved for those that have a strong inner conviction that music is how they wish to make a living, knowing full well how difficult and competitive it can be. After high school, Dan's professional interests led to degree programs in Theatre Design, Political Science, and most recently, Law School. Dan wrote his Law School application essay on his struggles to recover his trombone playing after some major jaw surgery, and how music has been a major life passion for him, even though he has chosen not to pursue it professionally. He concluded his essay,
"Though I may never again play in Carnegie Hall, I know that I will feel that same sense of accomplishment and enjoyment from playing on my own. Life is bound to have more setbacks and surprises, however, this experience has taught me to confront them, deal with them, and carry on."
Godspeed to you, Dan!
Chris Whitney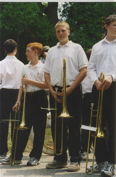 Student from 6th grade (2001) to 12th grade (2007)
Chris is a player whose success in lessons allowed him to be a thriving contributor to his school music program despite a heavy athletic and academic schedule. Though the rate of his progress slowed through the years as he got busy with varsity sports, Chris continued to advance through my curriculum, ultimately reaching the advanced intermediate level - a level most high school players never attain.
Chris started private lessons with me in 6th grade, and continued to 12th grade. He advanced most rapidly in the earlier years, passing about one book per year. In High School, Chris' strong early work helped him make the cut for his school's top ensembles – The Wind Ensemble, and Jazz Band. Even though his academic responsibilities and sports involvement increased, Chris managed to make continued progress through a challenging method book (my Advanced Intermediate Method) - completing the book at the end of his Junior year. During his Senior year, Chris did an excellent job preparing an advanced level solo for the Senior District Honors Ensemble auditions.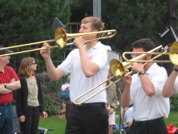 Chris writes,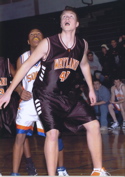 "Though playing trombone was fun, my priority was never to become an all-state player, or even the best in my band. I just wanted to have fun playing trombone in the groups I wanted to play in. The best part of Brian's instruction was that he focused on the methods I needed to progress most efficiently. Making the most of my limited time was very important, because during high school I played 4 years of basketball, 2 seasons of both football and rugby, did a season of rowing, acted in 2 plays, and sang in an a cappella group for a year, on top of school and church. I enjoyed playing the trombone recreationally throughout my school days and really valued a dedicated teacher guiding me along. I spent two years in both the Symphonic Band and Jazz Ensemble — audition groups which Mr. Kay helped me get in to and keep up with. Three of my classmates and I formed a special bond over the instrument we played together from fourth to twelfth grade. I am proud to be a trombone player and I thank Brian Kay for helping me become a competent one."
When I attended his schools Spring Pops Concert, I was thrilled to watch him perform with his school's top male Acapella singing group. I was confident that his trombone training had begun to provide a basis for a lifetime of varied musical activity and appreciation.
Greg Platt

Student from 8th grade (2002) through 12th grade (2007)
I can only take so much credit for Greg's tremendous success as a high school player because he came to me with a combination of high natural ability, strong interest, good previous training, family support, a great attitude, and effective practice habits and expectations. Greg chose to keep his after school schedule relatively clear of other activities, and this also contributed to his ability to do unusually great things with trombone. Greg started lessons with me in his 8th grade year when his teacher, a trumpet specialist, generously considered it time to pass him on to a trombone playing teacher.
Our lessons went well from the beginning, and Greg made rapid progress through my Intermediate Method, Volume 2, completing it in one year. A lot of things came into place quickly for Greg during that first year, including his tone quality and other trombone fundamentals. Working through the method book gradually raised his ability to take on more and more advanced literature. This set the stage nicely for Greg to qualify at an early age for various high school honors ensembles and educational opportunities.

In his ninth grade year, Greg not only received a top high chair in his District Band, but also went on to All-State, which was a fantastic experience for him, and a rare achievement for a Freshman. It was a thrill for his parents to get to see him on stage and hear him play with these high level groups. Greg's high school trombone career was off to a great start! Greg had what I consider a healthy attitude toward competition, which is when we allow the process of preparation to help you bring out the best in ourselves. Greg was also selected at a young age to play in the top group in the New England Conservatory Preparatory Division's Brass Ensemble Program – the Scholarship Brass Quintet. This gave Greg valuable chamber music experience and coaching.
In subsequent years, Greg continued to make top spots in the District and All-State ensembles. For each honors ensemble audition, he was required to prepare a challenging solo, and working on them provided an inspiring framework for Greg to reach ever higher levels of ability and experience. In between auditions, we worked through my "Advanced Pack" of material from Bordogni, Tyrell, Arban, and others.

Greg's high school trombone career culminated in his selection for the All-Eastern Honors Band, where he performed with other top-seated All-State Players from the Northeast United States. For the festival, Greg got to miss some school to stay in a hotel in downtown Hartford for two nights. He rehearsed by day, and attended some enjoyable concerts by night. The seating auditions were the first order of business, and Greg was surprised and thrilled to be selected as first chair in the All-Eastern Band.
Despite all these honors, Greg continued to be modest about his achievements and objective in his appraisals of his strengths and weaknesses. He will, however, be able to look back on his high school musical career with pride, satisfaction, and fantastic memories.
After High School, Greg continued on to the University of Connecticut to study engineering. He is enjoying indulging his twin passions - trombone and collegiate sports - as a member of the UConn marching band.
Matt Tesch

Student 2004 and 2007
Matt was a very talented collegiate bass trombonist pursuing an engineering degree from Olin College in Needham. He did a semester of general lessons with me earlier in his college years, and later took a series of lessons to help with an ambitious Senior Recital Project. Matt started his lessons a strong player with a good background from his high school days in Texas. The lessons helped him continue his good progress, and exposed him to some new ideas, approaches, and possibilities.
For the recital, I suggested a number of possible pieces, and Matt choose an ambitious, but doable set including an Ewazen Concerto, Barnacle Bill Variations, and a three movement piece of his own composition. Matt wrote the following about our work together.

"Each lesson began with a relatively short, but intense, fundamentals session. Even after this short warm up, I could hear the difference in my sound, which reiterated to me how important fundamentals are. During the lessons, Brian would point out things that I wasn't at all aware of until I started listening for them. Furthermore, he would know how to work with me to correct these issues, whether it was articulation or breathing or tone. He would often demonstrate the passage, allowing me to hear how to improve. What I felt was best, though, is that Brian always pushed me. I always had something to work on to constantly improve. Just because he always pushes doesn't mean that he is harsh or unsatisfiable, though. He gave positive feedback as I improved various facets of my playing. His constructive criticism certainly made me work, but I feel that he is a good judge of the potential of an individual (including constraints such as dealing with a full load of college courses), and so knows exactly how much to push for the maximum benefit."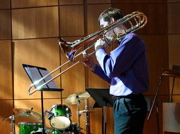 Matt really invested himself in every aspect of the project – choosing the pieces, composing some of the music, practicing the pieces, securing supporting players, and preparing a beautiful printed program with notes on the pieces. The recital went very well, and Matt played with a beautiful sound, mature interpretation, and excellent poise. Though Matt was an engineering major, it would have been an acceptable Junior recital for a music major at many major music schools!
Sound Clips: Ewazen, Barnacle Bill Intro
Other Success Stories
I have been privileged to teach many students who have been selected for District Honors Ensembles, including about a dozen who have gone on to the All-State level, and several All-Eastern students. But one does not have to achieve an external award to be a good music student. Having a student achieve excellence within the context of their school music ensembles, or simply doing well within the challenges of our lessons is highly satisfying in and of itself to me and my students. It is important that each student feels free to choose for themselves the level of involvement they would like to pursue.
ADD Students
(both slightly and very!)
I am thankful to have had many "ADD" students, who have typically been brilliant in many ways, and often very musically talented. Sometimes a student's ADD is hardly an impediment to their musical progress. At other times, it slows things down, and/or demands more patience and understanding as a teacher. Either way, these are students that I enjoy. I refuse to regard anyone considered ADD as inferior – it's just a different set of strengths and weaknesses in my opinion.
"Tough Cases"
"Tough cases" are a challenge that I enjoy! Sometimes a student has such a tough time with one or more aspects of music making that it takes all of my teaching "chops" just to help them stay positively engaged, and make a modicum of progress. Sometimes we make key breakthroughs, sometimes things open up as a student matures, and sometimes things continue to progress at a "snail's pace". But in these situations, one is reminded that the journey is more important than the destination.