Intermediate Trombone Method, Volume 2

by Brian Kay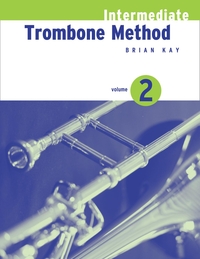 Printed book: $18 (plus $4 s/h per order)
Shipping is available to USA only

PDF download: $6

View Intermediate Trombone Method, Volume 1
Motivate and inspire your private lesson students with a balanced diet of musical challenges.
In a world short on attention, progressing trombone students need a method book that is focused, concise, enjoyable, and challenging. I wrote this book to meet that need. It presents a carefully curated sequence of material. Concepts are introduced progressively, developed, and reviewed regularly. The repertoire in this book creates a series of teachable moments that you can engage with in lessons, as you help your students improve their technique, range, endurance, reading ability, and musical sophistication.
Volume 2 is available for trombone only, and picks up where Volume 1 leaves off. Before starting Volume 2, a trombone student should:
Be able to play an F above the staff solidly.
Be comfortable with syncopation, 6/8, and sixteenth-note based rhythms.
Be ready to transition to advanced technical, musical, and music reading challenges.
In Volume 2, a trombone student will:
Strengthen range around F and G above the staff, with occasional range challenges up to high Bb. (A Moderated Range Edition is available with a slight trimming of high range demands.)
Build endurance through material of increasing length and complexity.
Further develop sixteenth note level rhythms in syncopation and 6/8 time.
Explore odd meter time signatures.
Be introduced to tenor clef, and the F attachment trigger.
Develop ability in the orchestral keys of G, D, and A.
Enjoy a balanced variety of material in each lesson group, including a jazz tune in swing rhythm, challenging exercises, and enjoyable tunes for technique.
After completing Volume 2, a trombonist will be well prepared to audition for high school regional honors ensembles, and fully ready to begin working on collegiate level material.
Trombone Volume 2 Sample

Trombone Volume 2 Moderated Range Edition Sample


Praise for Brian Kay's Intermediate Methods

"Congratulations on putting together such a bright, clean, positive collection of music and ideas for this level of player."
Norman Bolter
Trombonist Boston Symphony Orchestra and Principal Trombone of the Boston Pops 1975-2007 (retired), Professor at New England Conservatory and Boston Conservatory at Berklee
"A terrific resource for younger players. It progresses logically through keys and rhythms allowing players early success on the instrument."
Larry Isaacson
Trombone Professor and Brass Instructor, Boston Conservatory Former member, San Francisco Symphony and Empire Brass Quintet

"I like this book. This book is good!"
Kenny L.
Seventh Grade Student