Welcome to BrassStages.com
The Trombone Teaching Page of Brian Kay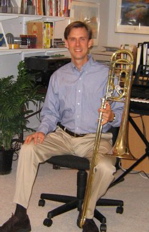 Brian Kay teaches trombone and brass instrument lessons from his home studio in Natick, Massachusetts, where students have come to study from over 29 towns throughout the Greater Boston region. He is a former faculty member at the New England Conservatory Preparatory Division, and the Longy School of Music.
This site includes informational tools for trombone and brass students of all ages, their parents, private teachers, and band directors.
Please use the navigation links on the left (below for mobile) to find many helpful resources and free instructional materials for your area of interest. Or check out the Complete Site Resource List.
I hope you find this site useful. Please let me know if you have any feedback.
To inquire about lessons, please email me at briankay@apollobrass.com
Brian Kay