Intermediate Brass Methods, Volumes 1 and 2

by Brian Kay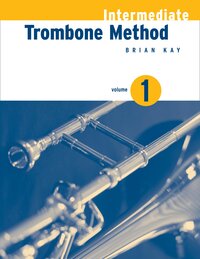 Designed to motivate todays' students with a "balanced diet" of musical challenges.
See below for extensive .pdf Sample Pages
As a private trombone instructor teaching students of all levels, I was frustrated to find that too many of my students lost focus and motivation in the intermediate years - even after completing two levels of beginner band methods in fine form. I tried many combinations of books - several of which I enjoyed playing from myself as a kid. But nothing passed the "real world" test of having today's kids consistently love them, thrive with them, and progress with them. Perhaps your experience has been similar?
After trying everything I could get my hands on, I decided to work towards producing my own books. This was a more substantial process than I ever would have imagined, but I did make two volumes of intermediate methods, and it has been wonderful to use them. If you would like to consider using these books for your students (or yourself), you can read more about them in the charts below. Volume 2 is currently available only in a rough draft edition (details below). I hope to have the final version available within one year's time.
A generous number of sample lessons (.pdf) are linked to below. You can use them to check out the book yourself, or have a student start on them before their order arrives. There is no substitute, however, for a student having the printed, bound book in their own hands, and deciding that working through it and finishing it is a worthy and achievable goal!
Thanks for taking a look. I hope you will decide to give them a try, and afterwards, I welcome your feedback, and suggestions for future books or revisions.

Each Book is
About The Volumes
Praise for Volume 1
"This is exactly what kids should be playing!"

Larry Isaacson
Trombone Professor and Brass Instructor, Boston Conservatory Former member, San Francisco Symphony and Empire Brass Quintet





"Congratulations on putting together such a bright, clean, positive collection of music and ideas for this level of player."

Norman Bolter
Trombonist, Boston Symphony Orchestra
Professor, New England Conservatory and Longy School of Music





"I like this book. This book is good!"

Kenny Leftin
Seventh Grade Student

Sample Lessons (.PDF Format)
Feel free to print as many as you like for free distribution, and/or refer your students to this page.
Intermediate Method Volume 1
Intermediate Method Volume 2, Rough Draft Edition (Trombone Only)