Audio Files
Students of Brian Kay

Most Advanced Students (MP3 Format)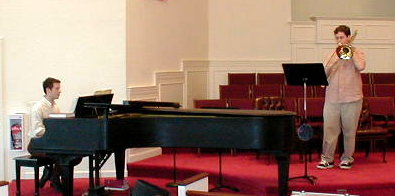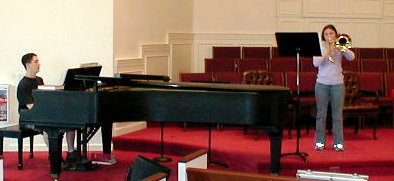 Needham Brass Recital, June 5, 2002 (RealAudio Format)
Audio Information
MP3 is a popular format for compressing audio files to make them about 11 times slimmer (and faster to load). Please note the MP3 files are large and download times will be slow on a standard modem connection.
If your browser doesn't already play MP3 files, you will need to download an MP3 player. Many are available for free including the newest Microsoft Windows Media Player, available from www.microsoft.com/windows/mediaplayer.
For Real Audio files, if you don't have a Real Player, you can go to http://www.real.com/ and get the FREE version of their player. (Look carefully, they make it harder to spot than the plus version which you pay for.)
Please send me an email and let me know how this worked for you, or if you have any questions.